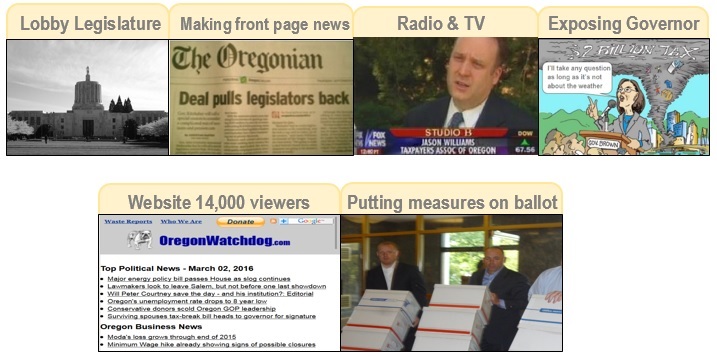 Urgent Alert!
Your donation needed to help in many ways...
✔ Help us defeat taxes in State Legislature
✔ Help us protect your Kicker tax Refund
✔ Help us fund OregonWatchdog web site (daily news)
Two ways to help:
(1) Send check by mail to: Taxpayer Association of Oregon: PO Box 23573 Tigard, OR, 97281
(make Political Tax Credit checks out to TAO-PAC)
(2) Donate online instantly below:
Donations not tax exempt
nor tax credit eligible

Taxpayer Association Oregon
Donations up to $50 ($100 per couple) are eligible for the Oregon Political Tax Credit and can receive 100% back on your Oregon taxes.

Taxpayer Association Oregon
To make a tax-deductible charitable contribution, click here:
Taxpayer Foundation of Oregon
Consult your CPA before claiming tax deductions or credits for your donations
to ensure eligibility based on income, residency, and other requirements.