Three different ways to help...
Where we need help the most
Donations not tax exempt
nor tax credit eligible

Taxpayer Association Oregon
PO Box 23573, Tigard OR 97281
Free Political Tax Credit
A tax credit is better than a deduction!
With a tax credit you can get 100% of your donation back. There is no limit to what you can choose to donate, but the Oregon Political Tax Credit only applies to the first $100/couple or $50/individual.
If you do not use the Tax Credit you will lose it.
The Oregon Political Tax Credit no longer applies to tax filers with incomes exceeding $100,000/individual or $200,000/couple. Please consult with your tax professional about any specific questions
Charitable Tax Deduction
Taxpayer Foundation of Oregon
PO Box 23573, Tigard OR 97281
Get a Charitable Tax Deduction for cash, stock, property, or vehicle donations. Questions call 503-603-9009
Donations to Taxpayer Foundation help expose government waste, fraud and abuse. They also help us reach tens of thousands with our postcard alert efforts.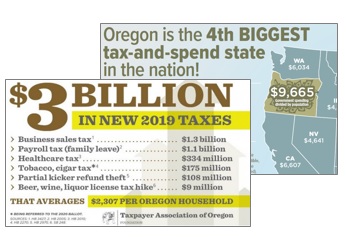 Taxpayer Foundation of Oregon
PO Box 23573, Tigard OR 97281
Consult your CPA before claiming tax deductions or credits for your donations
to ensure eligibility based on income, residency, and other requirements.