The Taxpayer Association of Oregon is a citizen grassroots non-profit founded in 1999 by Jason Williams and Don McIntire. It works towards lower taxes, government transparency, protecting liberty and exposing government waste, fraud and abuse of our tax dollars.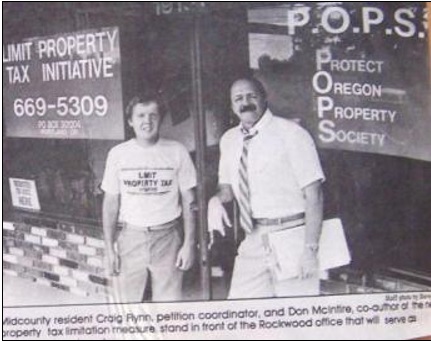 Don McIntire (photo) is famous as the author of Measure 5 (1992) the property tax limit measure approved by voters. If it was not for Measure 5 your property taxes would be 40% higher.
Jason Williams became first widely known as a key leader who helped defeat the statewide 1% income tax increase Measure 28 (2003) and the $600 million income tax surcharge Measure 30 (2004).
The Taxpayer Association runs the state's most extensive archive of government waste and abuse examples so the media and policy makers have a resource on how our tax dollars are being wasted.
The Taxpayer Association since 2001 runs a daily tax news ticker website called OregonWatchdog which helps keeps citizens informed daily of the latest tax, political and government news happening in Oregon.
If you like what we do, please consider making a donation -- charitable and tax credit options available. We depend on small grassroots donations for our survival.